About Alkham Groups & Clubs
We are happy to host basic information for Village Groups and Clubs.
This is for those groups or clubs who would like to grow membership or share news on the web as well as in the Alkham newsletter.
The great benefit of using the Alkham website is the opportunity and flexibility of posting your news and photographs almost immediately, without need to wait. People can also reply and comment, making for more interactive and vibrant communication with your members.
We are also open to listing your group or club on our menus or "useful links" page if that would be helpful.
We look forward to posting information from the Garden Club, Book Club, Film Club, the WVS as well as the Alkham Bellringers and the Church community.
All are welcome. It is a community website.
Naturally we may need to use discretion to avoid content that is not community friendly, or disrespectful to the community.
Other Alkham Groups & Clubs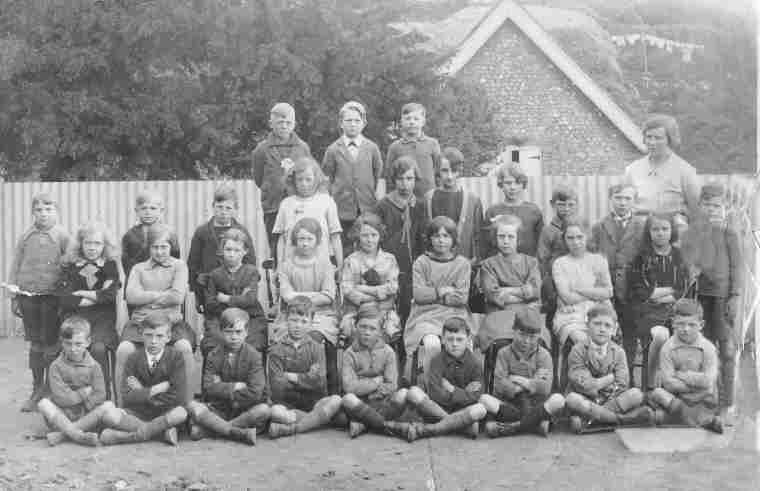 The photo above was taken in the playground of Alkham school around 1928 and we are keen to know who the children are. The boy at the back on the left is Harold Richards and next to him is Gordon Preston.
If you know any others please mailto:[email protected]
Home Guard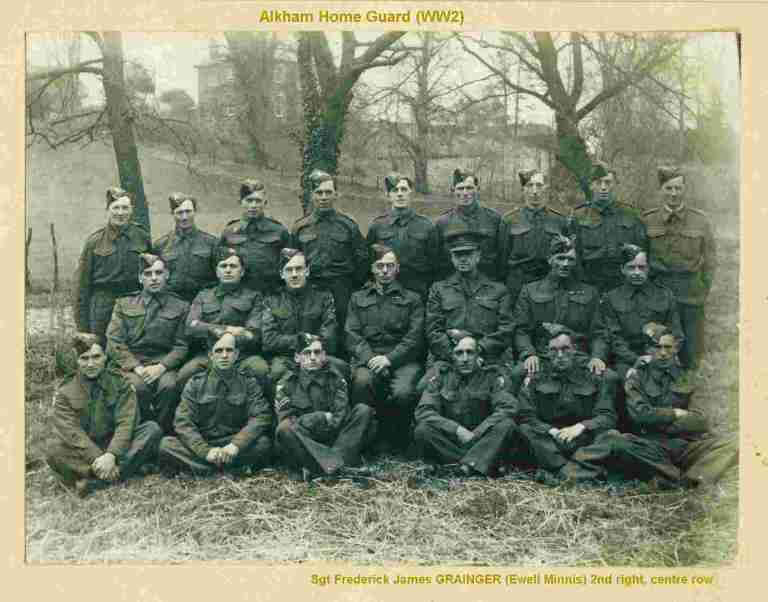 This photograph was sent to us by the great nephew of James Grainger and he would like information on anybody else in the photo. If you can help, please mailto:[email protected]
Since publishing the photo in the Newsletter and on the web we have found out some of the names:
Front row from the left: Percy Read, Eddie Roxburgh (cattle conveyor), not known, George Saunders, Eric Prescott, Buddy Holmes.
Middle row from the right: Bert Ducatel (coal merchant), James Grainger
Middle row 2nd from left: Alfred Gordon Brigham
Back row from left: not known, Bert Bartlett, Ron Prescott, Charlie Marsh
– on right Maurice Tutt, Maurice Harvey
With thanks we received an email from Alan Brigham who told us about Alfred Gordon Brigham (see above) and he said the date of the picture is between Jan 1941 and March 1942 (when he transferred back to Dover) Also !! – One day, Gordon decided that his wife Frieda should know how to use his rifle. But he forgot there was a bullet in the rifle. Fortunately, when it went off, it just made a hole in the skirting board!! — there were, of course, no Xmas crackers during WW11, but Gordon and his cronies managed to make their own using cardboard toilet rolls with practice bangers inserted and covered in coloured paper !!!. Believe they also made fireworks by using gunpowder from bullets!!
Whist
Every Friday night, starting at 7.30pm, whist is played in the village hall. If you would like to join them please
mailto:[email protected]
Archaology
Alkham Valley Historical Research Group is made-up of volunteers and students lead by an archco-geophysicist researching the history and archaeology of the Alkham valley and details of their work can
be seen on www.alkhamarchaeology.co.uk
Cycle Club
In the 1930's there was a cycle club in Alkham and 5 men can be seen outside the lytch-gate to St. Anthony's church getting ready for their Sunday ride.
In 2010, the Alkham Cycling Club pose outside Halton Court for their regular Thursday ride. From the left the riders are Geoff, Alan, Ken, Den and Brian and apart from Ken, all are still cycling, some on a more regular basis.
ARSE
In April 2007 there was an earthquake in Kent which was widely reported in the media. As a tongue in cheek reaction to this, Alkham's Relieved Survivors of the Earthquake was set up and is known by the acronym ARSE.
Originally, they met at the Marquis of Granby public house to counsel and console those who had been affected by the disaster. After the pub was closed, to become an upmarket hotel, the meetings continued at member's homes. After one such meeting two ladies appeared to be very affected but the source was traced to two bottles of wine.
Their good work continued and below is a photo taken in 2009 at one of their meetings in the Marquis. We are pleased to say that in 2017 the therapy has worked and the villagers are now able to live their lives without the worry and stress caused by the quake.
Alkham Fund
In 2004 Alkham Recycling was formed to collect recycleable material from houses in the village. The local council did not recycle but Kent Community Recycling, a charity, at Hawkinge did and paid a small amount for the items collected.
On the first Thursday of each month a van, lent by Hollis Motors, went round the village and picked up sacks of cans, plastic bottles, paper and cardboard and took them to Hawkinge. All the money which was raised from this was put in the Alkham Fund.
Over the four years that it operated about £2000 was raised and to date £1400 has been spent on items relating to the village such as Christmas tree lights and a new map board..
In November 2008 Dover District Council started a full recycling scheme, so Alkham Recycling has ceased but the fund has continued. Every year the fund buys the Christmas Tree, which is put on the green by the Valley Road, for everyone in the parish and those who drive to see.